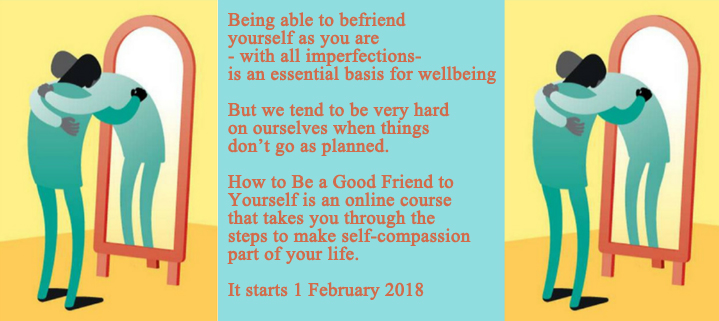 Wanneer:
februari 1, 2018 – maart 29, 2018
hele dag
2018-02-01T00:00:00+01:00
2018-03-30T00:00:00+02:00
How to Be a Good Friend to Yourself: an online course on making self-compassion part of your life
Do you struggle with a critical voice in your head that is continuously undermining you and telling you that you have messed up yet again? Are you also convinced that unless you are doing everything perfectly, then you are failing?
Self-compassion is the ability to manage our challenges and worries with kindness, rather than criticism. As we learn to view what happens to us without a running commentary on how we need things to be different from how they are, we are more able to calm down and get things into better perspective. Gradually we can see that the kind of problems we face are pretty much part of everyone's  experience and we are not being singled out as a particularly hopeless case. This helps us to manage our reactions better and to cope with more humour and less self-criticism.
http://www.handvestvoorcompassie.nl/wp-content/uploads/2018/01/Online-course-self-compassion.HD_.jpg
321
719
Astrid Gravenbeek
http://www.handvestvoorcompassie.nl/wp-content/uploads/2017/09/logo1.jpg
Astrid Gravenbeek
2018-01-17 09:27:16
2018-01-22 20:31:39
How to Be a Good Friend to Yourself: making self-compassion part of your life